McDonaldisation, Masala McGospel, and Om Economics
Verfasst von pw am Mo, 11/29/2010 - 23:44.
James, Jonathan D.:
McDonaldisation, Masala McGospel, and Om economics : televangelism in contemporary India / Jonathan D. James. - New Delhi [u.a.] : Sage Publications, 2010. - xxvii, 232 S. : Ill.
ISBN 978-81-321-0473-5
Rs. 595,00 (Sage India)
US$ 39,95 (Sage USA)
DDC: 261.2945; 294.572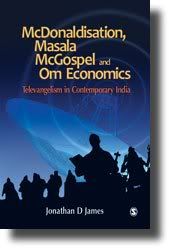 Beschreibung
This book looks at religion in a transnational and global context and presents a systematic account of the methods undertaken by modern day missionaries to convert people.
The author seeks to understand the outworking of the American phenomenon of televangelism in India, in a new historical, cultural, religious, political and economic setting. He likens global televangelism to 'McDonaldization', because of its standardized, 'one size fits all' approach. 'Glocal' televangelism - the fusion of the American and Indian evangelism - is referred to as 'Masala McGospel' because of the overwhelming presence of the global, American grammar and logic in the presentation and style of these programs in India. The author then goes on to show how a disjunction is being created in Hindu televangelism because of such blending of American techniques with the holiness of ancient scriptures, making them subservient to the modern day aspirations of globalization and consumerism. [Verlagsinformation]
Aus dem Inhalt
List of Tables and Figures. ix
Foreword by Prof STEWART M. HOOVER. xi
Acknowledgements. xv
Introduction. xvii
1. McDonaldisation, Masala McGospel and Om Economics. 1
2. Charismatic Televangelism: The Global, Evolving Spirit. 36
3. Televangelism in India's Context: Historical and Cultural Issues. 59
4. The Construction of Charismatic Televangelism in India. 99
5. Hindu Televangelism: The Economics of Orthopraxy. 115
6. Interpreting Charismatic Televangelism: Pastors and the Divided Church. 133
7. Interpreting Charismatic Televangelism: Hindu Leaders and the Contested Nation. 158
8. The Mediation of Charismatic Televangelism. 186
9. Faith's Flows, Fragments and Futures. 202
References. 215
Index. 229
About the Author. 233
Autor


JONATHAN D. JAMES, Edith Cowan University, Perth. Profile page. Homepage.
Quellen: Sage (USA); Sage (India); WorldCat; Library of Congress; Amazon; Flipkart