Mission to Tibet
Verfasst von pw am Mi, 10/13/2010 - 07:01.
Desideri, Ippolito:
Mission to Tibet : the extraordinary eighteenth-century account of Father Ippolito Desideri, S.J. / transl. by Michael J. Sweet ; ed. by Leonard Zwilling. - Somerville, Mass. : Wisdom Publications, 2010. - ca. 832 S.
Einheitssachtitel: Notizie istoriche del Tibet <engl.>
ISBN 978-0-86171-676-0 / 0-86171-676-0
US$ 34,95
DDC: 951.5032
-- Angekündigt für 1. November 2010 --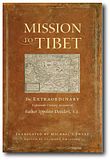 Beschreibung
Mission to Tibet recounts the fascinating eighteenth-century journey of the Jesuit priest ippolito Desideri (1684–1733) to the Tibetan plateau. The italian missionary was most notably the first european to learn about Buddhism directly with Tibetan schol ars and monks—and from a profound study of its primary texts. while there, Desideri was an eyewitness to some of the most tumultuous events in Tibet's history, of which he left us a vivid and dramatic account.
Desideri explores key Buddhist concepts including emptiness and rebirth, together with their philosophical and ethical implications, with startling detail and sophistication. This book also includes an introduction situating the work in the context of Desideri's life and the intellectual and religious milieu of eighteenth-century Catholicism. [Verlagsinformation]
Inhalt
List of Illustrations. xiii
Preface. xv
Technical Note. xvii
List of Abbreviations. xix
Chronology. xxi
Introduction. 1
1. Reading Historical Notices of Tibet (HNT): Genre, Style, Historiography, and Rhetoric. 1
2. Ippolito Desideri: his Life and Mission. 14
3. The Making of the HNT. 62
HISTORICAL NOTICES OF TIBET, AND A PERSONAL ACCOUNT OF THE JOURNEYS AND THE MISSION UNDERTAKEN THERE BY FR. IPPOLITO DESIDERI OF THE SOCIETY OF JESUS, WRITTEN AND DEDICATED BY THE SAME
To the Reader. 113
Book 1: Personal Account of the Journey from Rome to Lhasa, the Capital City of the Third Tibet, and of the Mission Undertaken there. 119
Book 2: Notices of the Nature, Customs, and Civil Government of Tibet. 211
Book 3: Of the False Sect of the Unique Religion Observed in Tibet. 297
Book 4: Departure from the Mission to the Kingdoms of Tibet; Passing on to other Missions and Return to Europe. 459
APPENDICES
A. Introduction to the Letter-Relation in Manuscript F. 607
B. Chapter 1 of B, Book 1 and the "To the Reader" Preface of B. 609
C. Manoel Freyre's Report on the Tibets and their Routes. 611
D. The Decree of the Propaganda Fide and Tamburini's Letter. 625
E. Desideri discusses his Appeal of the Propaganda's Decree. 627
F. The Meeting of Urgyen and Trisong Detsen. 630
G. Urgyen's Fifth Means. 632
H. Desideri's Tibet Missionary Manual. 635
Table of Tibetan Transliteration. 643
Notes. 653
Bibliography. 761
Index. 773
About the Translator and Editor. 797
Übersetzer
MICHAEL SWEET received a B.A. in Asian studies from City College of New York in 1969 and studied Buddhism with Geshe Wangyal from 1967 to 1978. After earning an M.A. at the University of Wisconsin–Madison in 1973 and doing research in Sri Lanka (under a Fulbright-Hays grant) and Nepal between 1973 and 1975, he received a Ph.D. in Buddhist studies from UW–Madison in 1977 under the direction of Geshe Lhundub Sopa, with a thesis on the Madhyamaka. During 1977 and 1978 he taught and did research at the American Institute of Buddhist Studies. He later received a Ph.D. in psychology from UW–Madison and from 1980 to 2004 was a psychotherapist in public and private practice and a sometime lecturer at UW–Madison, where he is a clinical assistant professor in the department of psychiatry. He has written extensively on Buddhist studies, including Peacock in the Poison Grove (Wisdom, 2001) with Geshe Sopa and Leonard Zwilling. Since 2001 his work has focused on Ippolito Desideri and the Catholic Tibet missions; in 2005 he was a visiting scholar at the American Academy in Rome, and he has published on this subject in various scholarly journals.
Herausgebe
LEONARD ZWILLING studied with Geshe Wangyal from 1967 to 1978 and graduated from the University of Wisconsin–Madison with a B.A. in 1970, going on to receive an M.A. in Hindu studies (1972) and a Ph.D. in Buddhist studies (1976) also at UW– Madison. His dissertation, on apoha in Buddhist logic, was directed by Geshe Lhundub Sopa. He did predoctoral research in Sri Lanka (1973–74) and Nepal (1974–75) under Ford Foundation and Fulbright-Hays scholarships. From 1977 to 1983 Dr. Zwilling taught Asian religions, Sanskrit, and Tibetan at UW–Madison and elsewhere. He received an M.L.S from UW–Madison in 1985 and from 1986 to 2009 was the general editor and bibliographer of the Dictionary of American Regional English in the department of English at UW–Madison, where he is presently senior scientist emeritus. Dr. Zwilling has published in a number of fields, and since 2005 his work has centered on Desideri and missions in Tibet.
Quellen: Wisdom Publications; WorldCat; Amazon; Library of Congress