The Patola Shahi Dynasty
Verfasst von pw am Fr, 12/16/2011 - 16:37.
Twist, Rebecca L.:
The Patola Shahi Dynasty : a Buddhological Study of their Patronage, Devotion and Politics / Rebecca L. Twist. - Saarbrücken : VDM Verlag Dr. Müller, 2011. - 296 S. : Ill.
Hochschulschrift. Zugl.: Columbus, Ohio State Univ., Diss., 2007
ISBN 978-3-639-15171-8 <! 9783639151718 -->
EUR 79,00
DDC: 954.91021; 704.948943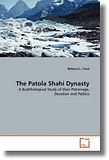 Beschreibung
In the 6th–8th c., the Patola Shahis ruled the country of Bolor, in what today is Northern Pakistan. There are a number of Buddhist artworks and texts that can be attributed through inscriptions to this royal family. Although the dynasty's visual record is clearly Buddhist, no comprehensive art historical scholarship has been conducted on it where the iconography of the images as a group is analyzed or placed within the broader framework of Buddhist theoretical practices. This study focuses on the visual culture of this dynasty, analyzing major iconographic features and interpreting them within a Buddhological context. The epigraphical and compositional components are also examined for their significance to specific Buddhist teachings, as well as the political aspirations that were also part of their Buddhist practices. By considering their visual record within a larger framework of social, religious, and political practices, the motives for the royal patronage and multivalent iconographies are gleaned. This study should be useful to professionals in the field of Art History and Buddhist studies, or anyone else interested in the issues of patronage and politics.
Autorin
REBECCA TWIST-SCHWEITZER, Assistant Professor of Art History, Pacific University, Forest Grove, Oregon. Faculty directory.
Quellen: Amazon (DE); Morebooks; WorldCat; Deutsche Nationalbibliothek.