Ethical Principles and Economic Transformation
Verfasst von pw am So, 09/18/2011 - 23:37.
Zsolnai, László [Hrsg.]:
Ethical principles and economic transformation : a Buddhist approach / ed. by Laszlo Zsolnai. - Dordrecht [u.a.] : Springer, 2011. - XI, 213 S. : graph. Darst. - (Issues in business ethics ; 33)
ISBN 978-90-481-9309-7 (Print-Ausg.)
ISBN 978-90-481-9310-3 (Online-Ausg.)
DOI: 10.1007/978-90-481-9310-3
EUR 106,95
DDC: 174.4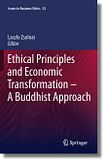 Beschreibung
Buddhism points out that emphasizing individuality and promoting the greatest fulfillment of the desires of the individual conjointly lead to destruction. The book promotes the basic value-choices of Buddhism, namely happiness, peace and permanence. Happiness research convincingly shows that not material wealth but the richness of personal relationships determines happiness. Not things, but people make people happy. Western economics tries to provide people with happiness by supplying enormous quantities of things and today's dominating business models are based on and cultivates narrow self-centeredness.But what people need are caring relationships and generosity. Buddhist economics makes these values accessible by direct provision. Peace can be achieved in nonviolent ways. Wanting less can substantially contribute to this endeavor and make it happen more easily. Permanence, or ecological sustainability, requires a drastic cutback in the present level of consumption and production globally. This reduction should not be an inconvenient exercise of self-sacrifice. In the noble ethos of reducing suffering it can be a positive development path for humanity. [Verlagsinformation]
Inhalt
PART I: INTRODUCTION
1. Laszlo Zsolnai:
Why Buddhist Economics? 3
PART II: BUDDHIST ETHICS APPLIED TO ECONOMICS
2. Julie A. Nelson:
The Relational Economy. 21
3. Peter Daniels:
Buddhism and Sustainable Consumption. 35
4. Juliana Essen:
Economic Sufficiency and Santi Asoke. 61
5. Joel C. Magnuson
Pathways to a Mindful Economy. 79
PART III: ACHIEVING HAPPINESS AND PEACE
6. Colin Ash:
Do Our Economic Choices Make Us Happy? 111
7. Sander G. Tideman:
Gross National Happiness. 133
8. Bronwen Rees and Tamas Agocs:
The Application of Buddhist Theory and Practice in Modern Organizations. 155
9. Laurens van den Muyzenberg:
Leadership the Buddhist Way. 167
PART IV: CONCLUSION
10. Laszlo Zsolnai:
The Contributions of Buddhist Economics. 183
Bibliography of Buddhist Economics. 197
About the Authors. 205
Index. 209
Herausgeber
LASZLO ZSOLNAI, Corvinus University of Budapest. Homepage.
Quellen: Springer Verlag; WorldCat; Amazon.de; Google Books