Ethical life in South Asia
Verfasst von pw am So, 11/07/2010 - 23:16.
Pandian, Anand [u.a.] [Hrsg.]:
Ethical life in South Asia / ed. by Anand Pandian and Daud Ali. - Bloomington, Ind. : Indiana University Press, 2010. - viii, 290 S.
ISBN 978-0-253-22243-5 / 0-253-22243-5 (pbk.)
US$ 24,95
ISBN 978-0-253-35528-7 / 0-253-35528-1 (hbk.)
US$ 70,00
DDC: 170.954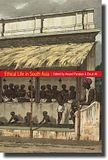 Beschreibung
Breaking from prevailing conceptions of ethics and morality as matters of moral rule or principle, this volume calls attention to ethical life in South Asia—the moral dispositions at work in lived experience, and the embodied practices of ethical engagement through which such dispositions may be cultivated and shared. Taking up themes such as the transmission of tradition, ethical engagements with modernity, ethical practices of the self, and moral relations between self and others, this volume puts South Asian traditions of ethical life into conversation with the Aristotelian, Christian, and liberal traditions that have been so consequential for ethical life in the West. [Verlagsinformation]
Inhalt
Acknowledgments. vii
Introduction / Anand Pandian and Daud Ali. 1
PART 1: TRADITIONS IN TRANSMISSION
1. The Subhāṣita as an Artifact of Ethical Life in Medieval India / Daud Ali. 21
2. Disciplining the Senses, Schooling the Mind: Inhabiting Virtue in the Tamil Tiṇṇai School / Bhavani Raman. 43
3. Ethical Traditions in Question: Diaspora Jainism and the Environmental and Animal Liberation Movements / James Laidlaw. 61
PART 2: ETHICS AND MODERNITY
4. Vernacular Capitalists and the Modern Subject in India: Law, Cultural Politics, and Market Ethics / Ritu Birla. 83
5. The Ethics of Textuality: The Protestant Sermon and the Tamil Public Sphere / Bernard Bate. 101
6. Empire, Ethics, and the Calling of History / Dipesh Chakrabarty. 116
PART 3: PRACTICES OF THE SELF
7. Between Intuition and Judgment: Moral Creativity in Theravada Buddhist Ethics / Charles Hallisey. 141
8. Young Manliness: Ethical Culture in the Gymnasiums of the Medieval Deccan / Emma Flatt. 153
9. Ethical Subjects: Time, Timing, and Tellability / Leela Prasad. 174
10. Demoralizing Developments: Ethics, Class, and Student Power in Modern North India / Craig Jeffrey. 192
PART 4: ETHICAL LIVES OF OTHERS
11. Living by Dying: Gandhi, Satyagraha, and the Warrior / Ajay Skaria. 211
12. Moral and Spiritual Striving in the Everyday: To Be a Muslim in Contemporary India / Veena Das. 232
13. Ethical Publicity: On Transplant Victims, Wounded Communities, and the Moral Demands of Dreaming / Lawrence Cohen. 253
List of Contributors. 275
Index. 279
Herausgeber
ANAND PANDIAN is Assistant Professor of Anthropology at Johns Hopkins University. He is author of Crooked Stalks: Cultivating Virtue in South India. Profile page.
DAUD ALI is Associate Professor and Chair of the Department of South Asia Studies, University of Pennsylvania. He is author of Courtly Culture and Political Life in Early Medieval India. Profile page.
Quellen: Indiana University Press; Amazon; WorldCat; Google Books.