Poetry, Politics and Culture
Verfasst von pw am Do, 05/21/2009 - 16:12.
Kumar, Akshaya:
Poetry, politics, and culture : essays on Indian texts and contexts / Akshaya Kumar. - New Delhi ; New York : Routledge, 2009. - x, 400 S.
ISBN 978-0-415-48005-5
Rs. 850,00
£ 50,00 (Routledge, UK)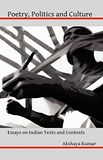 Beschreibung
This book maps the journey of the Indian poetic imagination—in Hindi, Panjabi and Indian English—from its original quasi-spiritual longings to its activist interventions in the public domain. As Indian poetry of the post-1990s gravitates towards a non-Orientalised postcolonial nationalism, it seeks to rewrite and disseminate the shifting coordinates of nationalist imagination in terms of the dissent of the subaltern discontents of the nation.
The book is interdisciplinary: it studies Indian poetry from the new emerging imperatives of postcolonialism, new historiography (subaltern, dalit and diasporas), nationalism, and cultural studies. Covering the two major north Indian languages—Hindi and Punjabi—along with poetry in Indian English, the book is a close textual study of about 150 poetry collections in these languages. It is path-breaking in its study of secular poetry written in the so-called vernaculars, with critical attention to its participation in the political as well as cultural processes of nation-making. [Verlagsinformation]
Inhalt
Preface.
Introduction.
I. MAPPING 'NATION'/'POST-NATION'
i. Introduction.
1. Negotiating nationalism(s): Hindi poetry during and after the colonial period.
2. De-fetishizing home/homelessness: 'nation' in post-1990s Hindi poetry.
3. From hyphen to high-fun: towards a topology of new Indian English diaspora poetry.
II. RE-WRITING CULTURE
ii. Introduction.
4. From nationalist icon to subaltern subject and beyond: latter-day Meeras.
5. Kissa as the locus of cultural history: Kissa Pooran Bhagat in modern Punjabi Literature.
6. Translating Bhakti: versions of Kabir in the colonial/early nationalist period.
7. Anxieties of native descent/dissent: Bhakti sub-text of Indian English verse.
III. DISSEMINATING DISSENT
iii. Introduction.
8. Poetry of incarceration: Punjabi Prison poetry from Ghadar to emergency and beyond.
9. From participation to protest: political consciousness of modern Indian English poetry.
10. From confusion to consolidation: politics of counter-aesthetics in Dalit poetry.
11. On the frontiers of the public sphere: Indian women's poetry from pre-1947 to post-9/11.
Bibliography.
Index.
Autor
Akshaya Kumar is Reader at Punjab University (Chandigarh) since 1998. He has published a number of research papers on Indian poetry and has authored A.K. Ramanujan: In Profile and Fragment.
Quellen: Routledge; Vedams Books; WorldCat; Amazon.