Health and Religious Rituals
Verfasst von pw am Do, 02/24/2011 - 13:03.
Ferrari, Fabrizio [Hrsg.]:
Health and religious rituals in South Asia : disease, possession and healing / ed. by Fabrizio Ferrari. - London : Routledge, 2011. - xxii, 224 S. : Ill. - (Routledge South Asian religion series ; 5)
ISBN 978-0-415-56145-7 / 0-415-56145-0
£ 80,00
DDC: 201.6610954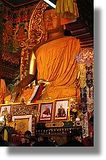 Beschreibung
Drawing on original fieldwork, this book develops a fresh methodological approach to the study of indigenous understandings of disease as possession, and looks at healing rituals in different South Asian cultural contexts. Contributors discuss the meaning of 'disease', 'possession' and 'healing' in relation to South Asian religions, including Hinduism, Islam, Buddhism and Sikhism, and how South Asians deal with the divine in order to negotiate health and wellbeing.
The book goes on to look at goddesses, gods and spirits as a cause and remedy of a variety of diseases, a study that has proved significant to the ethics and politics of responding to health issues. It contributes to a consolidation and promotion of indigenous ways as a method of understanding physical and mental imbalances through diverse conceptions of the divine. Chapters offer a fascinating overview of healing rituals in South Asia and provide a full-length, sustained discussion of the interface between religion, ritual, and folklore. The book presents a fresh insight into studies of Asian Religion and the History of Medicine. [Verlagsinformation]
Inhalt
Fabrizio M. Ferrari:
Preface
PART 1: INTRODUCTION
1. Frederick Smith:
Possession in Theory and Practice: Historical and Contemporary Models
2. Aditya Malik:
Is Possession Really Possible? Towards a Hermeneutics of Transformative Embodiment in South Asia
PART 2: POSSESSION FROM THE WEST
3. Magnus Mardsen:
Possession in an Islamist valley: Spirits, Islamists and Love in Chitral, Northern Pakistan
4. Ron Geaves:
Sikh Controversies concerning Punjabi Pilgrimage Sites used for Healing and Possession
5. Anne Vallely:
Ancestors, Demons and the Goddess: Negotiating the Animate Cosmos of Jainism
PART 3: POSSESSIONS FROM THE NORTH
6. Ivette Vargas-O'Bryan:
Disease, the Demons and the Buddhas: A Study of Tibetan Conceptions of Disease and Religious Practice
7. Deepak Shimkhada and Adam D. Pave:
Shamanic Healing: A Jhankri in the City
8. Anthony Cerulli:
Calculating Fecundity in the Kasyapa Samhita
PART 4: POSSESSIONS FROM THE EAST
9. Stefano Beggiora:
The whisper of the spirits. Shamanic kinship and the cult of the ancestor among the Lanjia Saoras of Orissa
10. Davide Torri:
In the Shadow of the Devil: Traditional Patterns of Lepcha Culture Reinterpreted
PART 5: POSSESSIONS FROM THE SOUTH
11. Rastin Mehri:
Gumez, Wizarishn & Tan-drustih: Affliction and Healing in Zoroastrianism
12. Grace William Harman:
Possession as Protection and Affliction: the Goddess Mariyamman's Fierce
13. Eva Ambos:
The Obsolescence of the Demons? Modernity and Possession in Sri Lanka
14. Fabrizio M. Ferrari:
Conclusion
Herausgegeber
FABRIZIO M. FERRARI is Senior Lecturer in Religious Studies, University of Chester, UK. His research focuses on the study of South Asian popular Hinduism and folklore, and subaltern studies and ritual theory. Profile page.