Moksopaya-tika of Bhaskarakantha
Verfasst von pw am Do, 01/13/2011 - 21:10.
Lo Turco, Bruno [Hrsg.]:
Mokṣopāya-ṭīkā of Bhāskarakaṇṭha : the Fragments of the Nirvāṇaprakaraṇa / Bruno Lo Turco. - Part 1: Critical edition. - Halle (Saale) : Universitätsverlag Halle-Wittenberg, 2011. - 282 S. - (Studia Indologica Universitatis Halensis ; 1)
ISBN 978-3-86977-028-4
EUR 48,00 (Sonderpreis zur Subskription bis Februar 2011: EUR 42,00)
DDC: 181.48; 294.5513
-- Angekündigt für Februar 2011 --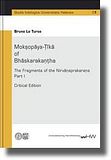 Beschreibung
This volume continues the publication of the fragments of the Mokṣopāya with the commentary of the Kashmiri Shaivite philosopher Bhāskarakaṇṭha critically edited by Walter Slaje (Mokṣopāya-Ṭīkā I–IV). It contains the critical edition of the first half of the large extant fragment of the Nirvāṇaprakaraṇa - the sixth section of the Mokṣopāya, the last and by far the most substantial - with Bhāskarakaṇṭha's commentary Nirvāṇaṭīkā. The Mokṣopāya, a huge philosophico-soteriological work probably composed by a Kashmiri author in the tenth century of our era, was the original version of what would become the Yogavāsiṣṭha, which enjoyed enormous popularity in India, in certain regions second only to the two great epic poems. [Verlagsinformation]
Herausgeber
BRUNO LO TURCO, Dipartimento di studi orientali, Università La Sapienza, Roma. Profilseite.
Quellen: Universitätsverlag Halle-Wittenberg; Mitteilung von Walter Slaje, Mailing-Liste Indology, 13. Januar 2011