The Idea of Writing
Verfasst von pw am Di, 09/07/2010 - 14:21.
Voogt, Alex de [u.a.] (Hrsg.):
The Idea of Writing : Play and Complexity / ed. by Alex de Voogt and Irving L. Finkel. - Leiden [u.a.] : Brill, 2010. - xii, 396 S. : Ill., Kt.
ISBN 978-90-04-17446-7 / 90-04-17446 X
EUR 114,00 / US$ 169,00
DDC: 411.09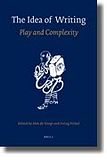 Beschreibung
The Idea of Writing is an exploration of the versatility of writing systems. From ancient Egyptian, Cuneiform and Meroitic writing to Chinese, Maya and Maldivian script, the authors examine the problems and possibilities of polysemy, representing loanwords and the problems of adapting a writing system to another language. The playful and artistic use of writing, including a contribution on writing dance, further illustrates the intricacies of the systems. This collection of articles aims to highlight the complexity of writing systems rather than to provide a first introduction. The different academic traditions in which these writing systems have been studied use linguistic, socio-historical and philological approaches that give complementary insights into the complex phenomena. [Verlagsinformation]
Aus dem Inhalt
In diesem Sammelwerk sind zwei Aufsätze mit Bezug auf Südasien enthalten:

Alex de Voogt: Languages and scripts in the Maldive Islands: coding and encoding, S. 197-205
Harry Falk: Foreign terms in Sanskrit pertaining to writing, S. 207-217
Herausgeber
ALEX DE VOOGT, Ph.D. (1995) in Psychology, Leiden University, is an Assistant Curator at the American Museum of Natural History in New York. His studies on writing systems and the dispersal of board games focus on the Indian Ocean region.
IRVING FINKEL, Ph.D. (1976) in Assyriology, University of Birmingham, is an Assistant Keeper at the British Museum in London. His special subjects are Ancient Mesopotamia, Cuneiform writing, Lexicography, Medicine, Esoterica and the study of Ancient Magic, in addition to contributions on the history of board games.
Quellen: Brill; Amazon (Deutschland); WorldCat; Google Books