Hinduism and Law
Verfasst von pw am Di, 10/26/2010 - 20:11.
Lubin, Timothy [u.a.] (Hrsg.):
Hinduism and Law : an introduction / ed. by Timothy Lubin ; Donald R. Davis ; Jayanth K. Krishnan. - Cambridge : Cambridge University Press, 2010. - ca. 320 S.
ISBN 978-0-521-88786-1
£ 55,00 (Hardcover)
ISBN 978-0-521-71626-0
£ 19,99 (Paperback)
DDC: 349.54
-- Angekündigt für Oktober 2010 --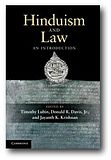 Beschreibung
Covering the earliest Sanskrit rulebooks through to the codification of 'Hindu law' in modern times, this interdisciplinary volume examines the interactions between Hinduism and the law. The authors present the major transformations to India's legal system in both the colonial and post colonial periods and their relation to recent changes in Hinduism. Thematic studies show how law and Hinduism relate and interact in areas such as ritual, logic, politics, and literature, offering a broad coverage of South Asia's contributions to religion and law at the intersection of society, politics and culture. In doing so, the authors build on previous treatments of Hindu law as a purely text-based tradition, and in the process, provide a fascinating account of an often neglected social and political history. [Verlagsinformation]
Inhalt
List of contributors. vii
Acknowledgements. x
Chronology. xi
Abbreviations. xiv
Map. xvi
Timothy Lubin, Donald R. Davis, Jr., and Jayanth K. Krishnan: Introduction. 1
PART I: HINDU LAW. 15
1. Donald R. Davis, Jr.: A historical overview of Hindu law. 17
2. Patrick Olivelle: Dharmaśāstra: a textual history. 28
3. Axel Michaels: The practice of classical Hindu law. 58
4. Rosane Rocher: The creation of Anglo-Hindu law. 78
5. Rachel Sturman: Marriage and family in colonial Hindu law. 89
6. Rina Verma Williams: Hindu law as personal law: state and identity in the Hindu Code Bills debates, 1952–1956. 105
PART II: LAW IN ANCIENT AND MEDIEVAL HINDU TRADITIONS. 121
7. Lawrence McCrea: Hindu jurisprudence and scriptural hermeneutics. 123
8. Timothy Lubin: Indic conceptions of authority. 137
9. Ananya Vajpeyi: Śūdradharma and legal treatments of caste. 154
10. Whitney M. Cox: Law, literature, and the problem of politics in medieval India. 167
11. Robert A. Yelle: Hindu law as performance: ritual and poetic elements in Dharmaśāstra. 183
PART III: LAW AND MODERN HINDUISM. 193
12. Richard H. Davis: Temples, deities, and the law. 195
13. Aditya Malik: In the divine court of appeals: vows before the god of justice. 207
14. Laura Dudley Jenkins: Contemporary caste discrimination and affirmative action. 215
15. Smita Narula: Law and Hindu nationalist movements. 234
16. Jayanth K. Krishnan: Legally and politically layered identities: a thumbnail survey of selected Hindu migration patterns from South Asia. 252
Glossary. 266
Bibliography. 271
Index. 298
Herausgeber
TIMOTHY LUBIN, Professor, Department of Religion, Washington and Lee University. Homepage.
DONALD R. DAVIS JR., Associate Professor, University of Wisconsin, Madison. Profile page.
JAYANTH K. KRISHNAN, Professor of Law, Indiana University, Maurer School of Law. Profile page.
Quellen: Cambridge University Pres; WorldCat; Amazon