IATS Seminar 2003 (vol. 12)
Verfasst von pw am Sa, 10/03/2009 - 12:34.
Jacoby, Sarah [u.a.] (Hrsg.):
Proceedings of the Tenth Seminar of the IATS, 2003 / ed. by Sarah Jacoby and Antonio Terrone. - Vol. 12: Buddhism Beyond the Monastery : Tantric Practices and their Performers in Tibet and the Himalayas. - Leiden [u.a.] : Brill, 2009. - 202 S. - (Brill's Tibetan studies library ; 10,12)
ISBN 978-90-04-17600-3
EUR 93,00 / US$ 138,00
DDC: 294.3/92309515
--Angekündigt für September 2009--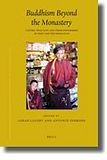 Beschreibung
Monasteries have been the locus classicus of the academic investigation of Tibetan religions. This volume seeks to balance this emphasis with an exploration of the diverse religious specialists who operate outside of the monastery in Tibet and along the Himalayan belt. The articles collected here depict Tantric professionals, visionaries, village lamas, spirit mediums, and female religious leaders whose loyalties reside in the noncelibate sphere but whose activities have had a significant impact on Tibetan religion. Using methodologies drawn from anthropological and textual scholarship, these seven essays bolster our understanding of religious practices and their performers beyond the monasteries of Central and Eastern Tibet, Bhutan, and India from historical times to the present day. [Verlagsinformation]
Inhalt
Sarah Jacoby & Antonio Terrone: Introduction to Buddhism Beyond the Monastery
1. Heather Stoddard: Eat it up or Throw it to the Dogs? Dge 'dun chos 'phel (1903-1951), Ma cig lab sgron (1055-1153) and Pha Dam pa sangs rgyas (d. 1117): A Ramble Through the Burial Grounds of Ordinary and 'Holy' Beings in Tibet
2. Sarah Jacoby: To be or not to be Celibate: Morality and Consort Practices According to the Treasure Revealer Se ra mkha' 'gro's (1892-1940) Autobiographical Writings
3. Antonio Terrone: Householders and Monks: A Study of Treasure Revealers and their Role in Religious Revival in Contemporary Eastern Tibet
4. Françoise Pommaret: 'Local Community Rituals' in Bhutan: Documentation and Tentative Reading
5. Nicolas Sihle: The Ala and Ngakpa Priestly Traditions of Nyemo (Central Tibet): Hybridity and Hierarchy
6. bsTan 'dzin Tshe Ring: The 'Spirit Mediums' (lha pa) of Reb gong in A mdo
7. Marcia S. Calkowski: Signs of Transition: On Interpreting Some Predictors of Sprul sku Rebirth
Herausgeber
SARAH JACOBY, Ph.D. (2007) in Religion, University of Virginia, is Assistant Professor in the Department of Religion at Northwestern University. Interested in Tibetan biography, revelation, and gender studies, she is researching the life and works of the Tibetan visionary Sera Khandro. Profile page.
ANTONIO TERRONE, Doctoral Candidate at Leiden University, is Visiting Assistant Professor at Northwestern University. Interested in the history and religious practices of the Nyingma School, he is investigating the phenomena of Treasure revealers in Tibetan areas of contemporary China. Profile page.
Quellen: Brill; Amazon (Deutschland); WorldCat