Zhang zhung
Verfasst von pw am Sa, 11/08/2008 - 14:13.
Im Jahr 2008 sind zwei größere Publikationen zum Thema Zhang zhung erschienen:
1. Bellezza, John Vincent:
Zhang Zhung : foundations of civilization in Tibet : a historical and ethnoarchaeological study of the monuments, rock art, texts, and oral tradition of the ancient Tibetan upland / John Vincent Bellezza ; maps by Quentin Devers. - Wien : Verlag der Östereichischen Akademie der Wissenschaften, 2008. - x, 841 S. : Ill., Kt. - (Beiträge zur Kultur- und Geistesgeschichte Asiens ; Nr. 61) (Denkschriften / Österreichische Akademie der Wissenschaften, Philosophisch-Historische Klasse ; 368)
ISBN 978-3-7001-6046-5 / 3-7001-6046-1 (Print-Ausg.)
ISBN 978-3-7001-6150-9 (EBook)
EUR 129,20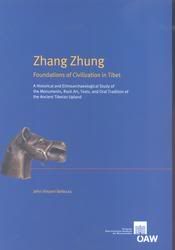 Beschreibung
Using archaeological, anthropological and philological methodologies, Zhang Zhung presents the formative elements in the development of civilization in Upper Tibet, the vast upland north and west of Lhasa. Part I of this major work provides a comprehensive examination of the monumental and aesthetic traces of the Metal Age and early historic period in Upper Tibet. Based on a field survey project of twelve years duration, the morphological, constructional, mythological and cross-cultural traits of the region's visible archaeological wealth are described in detail, laying the groundwork for the meticulous textual analysis that follows. In Part II of the book, annotated translations of numerous excerpts from Bon and Buddhist texts present the traditional view of Tibet's ancient past. These indigenous literary accounts of the early cultural, religious and political complex of the Plateau are in turn systematically compared to the archaeological record, revealing critical points of agreement. Zhang Zhung has pioneered the application of empirical evidence to gauge the historicity and significance of Tibetan Bon sources. Part III is devoted to the study of the archaic funerary heritage of Tibet, which proves to be highly useful with regard to analyzing the cultural evolution of the Plateau. New perspectives on the identity and contributions of the Tibetan ethnos are obtained by subjecting Dunhuang and Bon textual materials to rigorous archaeological and ethnographic interpretation. Considerable effort has been devoted to analyzing Tibetan funerary literature and to discerning its links to northern Inner Asian mythology and burial practices of the first millennium BCE and the first three-quarters of the first millennium CE. Critically edited transliterations of the Tibetan works, tables of all the surveyed archaeological sites, bibliographies and extensive indexes complement the main text. [Verlagsinformation]
Inhalt
Foreword. 1
Acknowledgements. 3
A general introduction. 5
PART I: THE ARCHAIC CULTURAL HORIZON SITES OF UPPER TIBET
Section 1: An Introduction to the Author's Archaeological Exploration of Upper Tibet and Survey Methodology. 15
Section 2: Criteria Used in the Determination of Archaic Sites. 20
Section 3: The Chronology of Archaic Sites. 26
Section 4: A Typological Outline of Archaic Monuments and Rock Art. 28
Section 5: A Geographic, Morphological and Cross-cultural Analysis of Archaic Residential Monuments in Upper Tibet. 30
Section 6: A Geographic, Morphological and Cross-cultural Analysis of Archaic Ceremonial Monuments in Upper Tibet. 69
Section 7: A Typological and Geographic Analysis of Archaic Agricultural Structures in Upper Tibet. 149
Section 8: Earthworks in Upper Tibet. 157
Section 9: Rock Art in Upper Tibet. 159
PART II: THE ARCHAIC CULTURAL, RELIGIOUS AND POLITICAL TRADITIONS OF TIBET AND ZHANG-ZHUNG
Section 1: The Application of Bon Literature to the Study of the Upper Tibetan Archaic Cultural Horizon. 201
Section 2: The Bon Masters and Ritual Objects of Ancient Tibet and Zhang-zhung. 206
Section 3: The Elite Cultural Traditions of Zhang-zhung. 245
Section 4: The Elite Cultural Traditions of Ancient Tibet. 270
Section 5: The Archaic Architectural Traditions of Tibet and Zhang-zhung. 288
Section 6: The Pantheon of Zhang-zhung. 300
PART III: THE ARCHAIC FUNERARY TRADITIONS OF TIBET AND ZHANG-ZHUNG
Section 1: Tibetan Archaic Funerary Traditions in the Light of Archaeological Research. 357
Section 2: A Bird's Eye View of Tibetan Funerary Traditions. 361
Section 3: A General Introduction to the Mu-cho'i Khrom-'dur. 367
Section 4: The Legendary Origins of the Mu-cho'i Khrom-'dur. 373
Section 5: The Sequence of Philosophical and Ritual Structures in the Mu-cho'i Khrom-'dur. 389
Section 6: An Examination of the Archaic Eschatological and Ritual Pillars of the Mu-cho'i Khrom-'dur. 412
Section 7: The Archaic Funerary Traditions of the Klu 'bum nag po. 480
Section 8: The Archaic Funerary Traditions of the Dunhuang Manuscripts. 496
Section 9: Associative Archaeological and Ethnographic Materials. 543
CONCLUSION. 569
TIBETAN TEXTS
Section 1: Transliterations of Texts from Part II. 579
Section 2: Transliterations of Texts from Part III. 610
TABLES. 651
MAPS. 688
BIBLIOGRAPHY. 747
INDEXES. 781
LIST OF FIGURES. 833
Autor
John Vincent BELLEZZA is a visiting scholar at the University of Virginia. Profile
Quellen: Österreichische Akademie der Wissenschaften (epub); Verlag der Österreichischen Akademie der Wissenschaften; Jinajik; WorldCat.
Schlagwörter: Zhang-zhung; Tibet; Tibetisch; Geschichte; Religion
2. Tsultrim Tenzin, Pasar [u.a.]:
A lexicon of Zhangzhung and Bonpo terms / compiled by Pasar Tsultrim Tenzin, Changru Tritsuk Namdak Nyima, Gatsa Lodroe Rabsal ; edited by Yasuhiko Nagano, Samten G. Karmay ; translated by Heather Stoddard. - Osaka : National Museum of Ethnology, 2008. - vi, 323 S. - (Senri ethnological reports ; 76) (Bon Studies ; 11)
ISBN: 978-4-901906-56-2 / 4-901906-56-9
Preis: kA
English and Tibetan; colophon in Japanese.


Beschreibung
本書は1995年以来、当館共同研究や科研により継続的に行っている、チベットのポン教文化に関する一連の研究の成果であり、 直接的には科研基盤S『チベット文化域における言語基層の解明』の成果の一部である。
ポン教はチベット自治区全域、四川省、甘粛省、青海省、雲南省、ヒマラヤ南麓に広く分布している宗教で、仏教がチベットに齎され、政権と結びつく前まではその地域にドミナントであった。 ポン教とその文化は、チベットの基層文化と社会を理解する上で欠くべからざる研究対象である。
このポン教文化を当初担っていた人々の言語はチベット語ではなく、シャンシュン語(以下ZZ)という9世紀に死語となった言語であった。 この言語には2層が区別される。古いZZは敦煌出土文献の解析によって解明されるものだが、サンプル数の不足のため、いまだ成功していない。 一方、新しいZZは12世紀以降、ポン教徒によって再構成されたもので、多くのポン教文献に埋め込まれている。古いZZが現況では解読不能である以上、我々は先ず新しいZZを再構し、 ZZと系統関係が予測されるギャロン語・羌語・ヒマラヤ南麓に分布するチベット・ビルマ系諸語との整合性を考慮しつつ、解読してゆかねばならない。
そのための第一歩として、20種のポン教文献からZZ語彙を抽出し、その意味をポン教学僧との協働で特定する作業を行ってきた。 また、ZZと特定はしにくいが、ポン教文献にのみ現れる語彙も同時に蒐集した。 語の音形式や音節構造はチベット語と酷似しているものの、意味がまったく異なるものがほとんどであることから、従前研究者によって放擲されてきた研究であるが、 今回、英訳を含め、成果をまとまった形で公表できる段階に達したので、刊行することとした。 本書により、従前全く読むことのできなかったZZ語文を初めて体系的に読むことができ、知られていなかったチベット文化域の歴史と文化を明るみに出す手掛りとなりうる。
Inhalt
Yasuhiko Nagano: Preface
Samten G. Karmay: Introduction
Lexicon
Index
Divinities
Personal names
Locations
Quellen: Senri Ethnological Reports; Amazon; WorldCat; Library of Congress.
Schlagwörter: Zhang-zhung; Tibetisch; Tibet; Bon