Long Lives and Untimely Deaths
Verfasst von pw am Sa, 01/14/2012 - 20:13.
Gerke, Barbara:
Long Lives and Untimely Deaths : life-span concepts and longevity practices among Tibetans in the Darjeeling Hills, India / Barbara Gerke. - Leiden : Brill, 2011. - xxiv, 362 S. - (Brill's Tibetan studies library ; 27)
ISBN 978-90-04-21703-4
EUR 105,00 / US$ 144,00
DDC 305.8954105414; 612.6809515
-- Angekündigt für Dezember 2011 --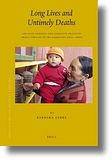 Beschreibung
Longevity and long-life practices have been a pan-Tibetan concern for a very long time, but have hardly been studied by anthropologists. This book presents ethnographic accounts and textual material demonstrating how Tibetans in the Darjeeling Hills, India, view the life-span and map out certain life-forces in various areas of knowledge. These life-forces follow daily, monthly, and annual cycles. Divinations and astrological calculations are widely but varyingly used by Tibetans to assess the strength of life-forces and forecast difficult periods in their lives. Loss, exhaustion, or periodic weaknesses of life-forces are treated medically or through Tibetan Buddhist practices and rituals. In all these events, temporality and agency are deeply interlinked in the ways in which Tibetans enhance their vitality, prolong their life-spans, and avoid 'untimely deaths.' [Verlagsinformation]
Autorin
BARBARA GERKE, D.Phil. (2008) in Social Anthropology, University of Oxford, is the Principal Investigator of a three-year DFG funded research project at Humboldt University of Berlin, Germany. Her research focuses on the anthropology of Tibetan Medicine, longevity, toxicity, and methods of purification. Profile page.
Quellen: Brill; WorldCat; Amazon (UK); Google Books