Sikhs in Europe
Verfasst von pw am Di, 11/15/2011 - 10:36.
Jacobsen, Knut A. [u.a.] [Hrsg.]:
Sikhs in Europe : migration, identities, and representations / Knut A. Jacobsen and Kristina Myrvold. - Farnham, Surrey ; Burlington, VT : Ashgate, 2011. - XIV, 346 S. : Ill., graph. Darst.
ISBN 978-1-409-42434-5
£ 60,00
DDC: 305.6946094
-- Angekündigt für November 2011 --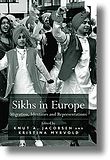 Beschreibung
Sikhs in Europe are neglected in the study of religions and migrant groups: previous studies have focused on the history, culture and religious practices of Sikhs in North America and the UK, but few have focused on Sikhs in continental Europe. This book fills this gap, presenting new data and analyses of Sikhs in eleven European countries; examining the broader European presence of Sikhs in new and old host countries. Focusing on patterns of migration, transmission of traditions, identity construction and cultural representations from the perspective of local Sikh communities, this book explores important patterns of settlement, institution building and cultural transmission among European Sikhs. [Verlagsinformation]
Inhalt
List of Figures. vii
List of Tables. ix
Notes on Contributors. xi
Knut A. Jacobsen and Kristina Myrvold:
Introduction: Sikhs in Europe. 1
PART I: SIKHS IN NORTHERN AND EASTERN EUROPE
Knut A. Jacobsen:
Institutionalization of Sikhism in Norway: community growth and generational transfer. 19
Helene Ilkjaer:
The Sikh community in Denmark: balancing between cooperation and conflict. 39
Kristina Myrvold:
The Swedish Sikhs: community building, representation and generational change. 63
Laura Hirvi:
Sikhs in Finland: migration histories and work in the restaurant sector. 95
Zbigniew Igielski:
The Sikhs in Poland: a short history of migration and settlement. 115
PART II: SIKHS IN SOUTHERN EUROPE
Barbara Bertolani, Federica Ferraris and Fabio Perocco:
Mirror games: a fresco of Sikh settlements among Italian local societies. 133
Christine Moliner:
'Did you get papers?': Sikh migrants in France. 163
Kathryn Lum:
Caste, religion, and community assertion: a case study of the Ravidasias in Spain. 179
Niki Papageorgiou:
Sikh immigrants in Greece: on the road to integration. 201
PART III: SIKHS IN THE UNITED KINGDOM AND IRELAND
Eleanor Nesbitt:
Sikh diversity in the UK: contexts and evolution. 225
Jasjit Singh:
Sikh-ing beliefs: British Sikh camps in the UK. 253
Opinderjit Kaur Takhar:
The Valmiki, Ravidasi and Namdhari communities in Britain: self-representations and transmission of traditions. 279
Glenn Jordan and Satwinder Singh:
The Sikh diaspora in Ireland: a short history. 305
Glossary. 331
Index. 337
Herausgeber
KNUT A. JACOBSEN, University of Bergen, Norway, is the author or editor of around 20 books. He was co-editor with Selva J. Raj of South Asian Christian Diaspora published by Ashgate 2008. Profile page.
KRISTINA MYRVOLD, Lund University, Sweden, is the editor of the book The Death of Sacred Texts: Ritual Disposal and Renovation of Texts published by Ashgate in 2010. Profile page.
Quellen: Ashgate; WorldCat; Amazon (UK)