War, Culture and Society in Early Modern South Asia
Verfasst von pw am Sa, 03/26/2011 - 16:32.
Roy, Kaushik:
War, Culture and Society in Early Modern South Asia, 1740-1849 / by Kaushik Roy. - London [u.a.] : Routledge, 2011. - ca. 256 S. - (Asian States and Empires ; 3)
ISBN 978-0-415-58767-9
£ 85,00
DDC: 355.0095409034
-- Angekündigt für März 2011 --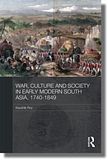 Beschreibung
This book argues that the role of the British East India Company in transforming warfare in South Asia has been overestimated. Although it agrees with conventional wisdom that, before the British, the nature of Indian society made it difficult for central authorities to establish themselves fully and develop a monopoly over armed force, the book argues that changes to warfare in South Asia were more gradual, and the result of more complicated socio-economic forces than has been hitherto acknowledged.
The book covers the period from 1740, when the British first became a major power broker in south India, to 1849, when the British eliminated the last substantial indigenous kingdom in the sub-continent. Placing South Asian military history in a global, comparative context, it examines military innovations; armies and how they conducted themselves; navies and naval warfare; major Indian military powers - such as the Mysore and Khalsa kingdoms, the Maratha confederacy - and the British, explaining why they succeeded. [Verlagsinformation]
Inhalt
1. Naval Warfare in South Asia: 1500-1850
2. The Changing Pattern of Later Mughal Warfare
3. Army, State and Political Economy of the East India Company
4. Armies, Warfare and Political Economy of Mysore: 1760-1799
5. The Maratha Confederacy: Armies, Economy and Warfare
6. Khalsa Kingdom against the East India Company, 1780-1849
Autor
KAUSHIK ROY is Reader in History at Jadavpur University, India and a Senior Researcher at the Centre for the Study of Civil War (CSCW) at the International Peace Research Institute, Oslo (PRIO). His latest publication is The Oxford Companion to Modern Warfare in India. Profile page.
Quellen: Routledge; WorldCat; Library of Congress; Amazon (UK)