Transformations and Transfer of Tantra
Verfasst von pw am Fr, 02/10/2012 - 10:23.
Keul, István [Hrsg.]:
Transformations and transfer of Tantra in Asia and beyond / ed. by István Keul. - Berlin [u.a.] : De Gruyter, 2012. - IX, 531 S. : Ill. - (Religion and society ; 52)
ISBN 978-3-11-025810-3
EUR 119,95 / US$ 180,00
DDC: 294.3925095
-- Angekündigt für Januar 2012 --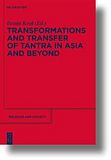 Beschreibung
The essays in this volume, written by specialists working in the field of tantric studies, attempt to trace processes of transformation and transfer that occurred in the history of tantra from around the seventh century and up to the present. The volume gathers contributions on South Asia, Tibet, China, Mongolia, Japan, and Western Europe by scholars from various academic disciplines, who present ongoing research and encourage discussion on significant themes in the growing field of tantric studies. In addition to the extensive geographical and temporal range, the chapters of the volume cover a wide thematic area, which includes modern Bengali tantric practitioners, tantric ritual in medieval China, the South Asian cults of the mother goddesses, the way of Buddhism into Mongolia, and countercultural echoes of contemporary tantric studies. [Verlagsinformation]
Inhalt
Acknowledgements. v
István Keul:
Introduction. 1
PART I. SOUTH ASIA
Annette Wilke:
Recoding the Natural and Animating the Imaginary: Kaula Body-practices in the Paraśurāma-Kalpasūtra, Ritual Transfers, and the Politics of Representation. 19
Ronald M. Davidson:
Some Observations on an Uṣṇīṣa Abhiṣeka Rite in Atikūṭa's Dhāraṇīsaṃgraha. 77
Shaman Hatley:
From Mātṛ to Yoginī. Continuity and Transformation in the South Asian Cults of the Mother Goddesses. 99
Glen Alexander Hayes:
Rivers to the Sky: Transformation, Metaphor, and Worldview in Bengali Tantric Traditions. 131
June McDaniel:
Modern Bengali Śākta Tāntrikas: Ethnography, Image, and Stereotype. 147
Xenia Zeiler:
Transformations in the Textual Tradition of Dhūmāvatī. Changes in the Reception of the Tantric Mahāvidyā-Goddess in Ritual, Function, Iconography, and Mythology. 165
István Keul:
Reconnecting to What? Imagined Continuities and Discursive Overlaps at Tantrapīṭhas in Central and Eastern India. 195
Loriliai Biernacki:
The Absent Mother and Bodied Speech. Psychology and Gender in late Medieval Tantra. 215
PART II. MONGOLIA, TIBET, AND CHINA
Karénina Kollmar-Paulenz:
Embodying the Dharma. The Buddhist Way into Mongolia. 239
Geoffrey Samuel:
Amitāyus and the Development of Tantric Practices for Longevity and Health in Tibet. 263
Martin Lehnert:
Ritual Expertise and Imperial Sovereignty; Some Remarks on Tantric Ritual Pragmatics in Medieval China. 287
Charles D. Orzech:
The Trouble with Tantra in China: Reflections on Method and History. 303
PART III. JAPAN
Lucia Dolce:
Taimitsu Rituals in Medieval Japan: Sectarian Competition and the Dynamics of Tantric Performance. 329
Richard K. Payne:
Conversions of Tantric Buddhist Ritual: The Yoshida Shintō Jūhachishintō Ritual. 365
Bernard Faure:
Impact of Tantrism on Japanese Religious Traditions: The Cult of the Three Devas. 399
PART IV. … AND BEYOND
Katja Rakow:
Kālacakra in Transition: From the Apocalypse to the Promotion of World Peace. 413
Jeffrey J. Kripal:
Remembering Ourselves: On Some Countercultural Echoes of Contemporary Tantric Studies. 435
Hugh B. Urban:
Tantra, American Style: From the Path of Power to the Yoga of Sex. 457
Kennet Granholm:
The Serpent Rises in the West: Positive Orientalism and Reinterpretation of Tantra in the Western Left-Hand Path. 495
Notes on Contributors. 521
Index. 525
Herausgeber
ISTVÁN KEUL, bis 2009 wissenschaftlicher Mitarbeiter, Institut für Religionswissenschaft, Freie Universität Berlin. Profilseite. Seit 2009 Department of Archaeology and Religious Studies, Norwegian University of Science and Technology, Trondheim. Profilseite.
Quellen: De Gruyter; WorldCat; Deutsche Nationalbibliothek; Buchhandel.de
Bibliographie: [1]
---
References