Ruby in the Dust
Verfasst von pw am Di, 02/14/2012 - 09:33.
Bruijn, Thomas de:
Ruby in the Dust : Poetry and History in Padmāvat by the South Asian Sufi Poet Muḥammad Jāyasī / Thomas de Bruijn. - Leiden : Leiden University Press, 2012. - 371 S.
Hochschulschrift. Zugl.: Leiden, Univ., Diss., 1996 unter dem Titel: The ruby hidden in the dust : a study of the poetics of Malik Muḥammad Jāyasīʹs Padmāvat
ISBN 978-90-8728-112-0 (Print-Ausg.)
ISBN 978-94-0060-031-7 (eBook)
EUR 47,95 / £ 38,95 / US$ 61,50
In den USA vertrieben durch The University of Chicago Press.
DDC: 891.4312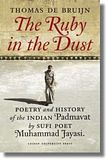 Beschreibung
The Padmāvat (1540 CE) by the Indian Sufi poet Malik Muhammad Jāyasī is a classic of pre-modern Indian literature. It relates how the Rajput king Ratansen of Chitor finds and marries the beautiful princess Padmāvati, and how the sultan Alauddin Khilji, on hearing of her beauty, besieges Chitor in a fruitless attempt to capture her. The Ruby in the Dust presents a reading of Padmāvat that challenges existing interpretations of Jāyasī's work and describes how its semantic polyphony reflects the poet's role as mediator between his spiritual and worldly patrons. The perspective of De Bruijn's reading corrects the identification with modern, nationalist notions of Hindu and Muslim identity that have dominated interpretations of this work until now, revealing a confluence of poetry and history that inspired the many retellings of the tale of Padmāvati in Persian and other Indian languages made until the present day. [Verlagsinformation]
Inhalt
Preface. 9
A note on transliteration. 11
Introduction. 13
PART 1
1. The poet and the literary field. 29
2. Text, transmission and reception. 71
3. The literary context of Padmāvat. 101
4. Structure and meaning in Padmāvat. 149
PART 2
5. A poem of love. 205
6. The metaphoric scheme of light. 241
7. The messenger. 259
8. Conclusion: Jāyasī and the literary field. 271
References. 277
Appendix. 295
1. Adaptations and translations. 295
2. Gupta's selection of manuscripts. 299
3. Hindi text of the quoted stanzas and verses. 300
4. Outline of the contents of Padmāvat. 331
5. Interpretation of the 'two words' (stanza 652.8-9). 354
Glossary. 357
Index. 361
Autor
THOMAS DE BRUIJN is a specialist in early and modern South asian literature. He was a fellow at International Institute for Asian Studies and taught at Inalco, Paris.
Quellen: Leiden University Press; WorldCat; University of Chicago Press; Google Books