Royal Messages by the Wayside
Verfasst von pw am Fr, 01/28/2011 - 11:26.
Chakrabarti, Dilip K.:
Royal messages by the wayside : historical geography of the Asokan edicts / Dilip K. Chakrabarti. - New Delhi : Aryan Books International, 2011. - xvi, 184 S. : Ill., Kt.
ISBN 978-81-7305-411-2
Rs. 1500,00
US$ 30,68 (Eastern Book Corp.)
US$ 37,50 (Aryan Books International)
US$ 75,00 (Saujanya Books)
US$ 75,60 (Bagchee)
DDC: 934.045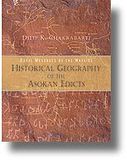 Beschreibung
This book discusses the geographical implications of the locations of the Asokan edicts and is based on field-studies of many of these locations. The Asokan studies have largely been based, since their inception, on the issues of language, script and grammar, and one hopes that the studies of this kind, which are important ingredients of Asokan scholarship, will continue to be undertaken. However, textual scholarship or grammatical rules do not necessarily lead by themselves to historical or geographical knowledge. By studying in detail the geographical locations of the Asokan edicts, the present book has tried to understand some of the geopolitical factors operative in Mauryan India. It has also tried to identify ancient Tosali and the place where the battle for Kalinga was likely to have taken place. Two more major places which have been identified are Isila and Suvarnagiri. Among other things, it has argued that the Mauryan art, instead of being so-called 'imperial' and 'courtly', was much more broad-based than is thought and effectively foreshadowed some basic elements of the later 'Sunga art'. [Verlagsinformation]
Inhalt
Preface vii
List of Illustrations xiii
1. INTRODUCTION 1
2. THE MINOR ROCK EDICTS 12
I. The Sasaram-Ghurhupur/Basaha-Ahraura Sector 12
II. Rupnath 25
III. Panguraria 26
IV. Gujarra 30
V. Bahapur/Srinivaspuri, Delhi 30
VI. Bairat 31
VII. The Southern Minor Rock Edicts 32
VIII. Manema desa, Suvarnagiri and Isila 39
3. THE FOURTEEN MAJOR ROCK EDICTS AND THE TWO SEPARATE EDICTS 42
I. The Contents of the Fourteen Edicts 42
II. The Findspots of the Major Rock Edicts and the Significance of their Locations 48
II.1. Shahbazgarhi 48
II.2. Mansehra 50
II.3. The Historical-Geographical Significance of the 51 Locations of Shabazgarhi and Mansehra Rock Edict Sites
II.4. Girnar 53
II.5. Kalsi 57
II.6. Sopara 59
II.7. Sannati 62
II.8. Yerragudi/Erragudi 66
II.9. Dhauli 66
II.10. Jaugada 67
II.11. The Identification of Tosali 67
II.12. The Significance of the Locations of Dhauli and Jaugada 71
III. The Separate Edicts 72
IV. The Related Historical and Geographical Issues 73
V. Where Did the Battle of Kalinga Take Place? 74
V.1. The Epigraphic Context 74
V.2. The Location of Kalinga 75
V.3. Possible Place of the Kalinga Battle 81
4. THE EDICTS FROM VIDARBHA, BAIRAT (CALCUTTA-BAIRAT OR BHABRU EDICT), AFGHANISTAN AND THE NORTHWEST, AND THE BARABAR HILLS 83
I. Vidarbha 83
I.1. The Inscription from Deotek in the Chandrapur District 83
I.2. The Untraceable Edict, Possibly from Ghugus, in the Chandrapur District 85
I.3. Comments on the Vidarbha Finds 85
II. Calcutta-Bairat 86
III. Afghanistan 89
III.1. Shahr-i-Kuna or Old Kandahar 89
III.2. Lamghan/Pul-i-Darunta 93
IV. The Taxila Pillar Inscription in Aramaic 95
V. The Buner/Takht-i-Bahi Stone Slab Inscribed in Asokan Brahmi 96
VI. Barabar Hills 97
5. THE SEVEN PILLAR EDICTS AND VARIOUS RELATED ISSUES 98
I. The Contents of the Seven Pillar Edicts (after Hultzsch 1925) 100
I.1. Pillar Edicts I-V 100
I.1.1. Notes on the Birds, Fishes and Animals Mentioned in PE V 101
I.2. Pillar Edicts VI-VII 104
II. The Locations of Asokan Pillars in the Accounts of Fa-Xian and Xuan-Zang (Hiuen-Tsang) 106
II.1. The Testimony of Fa-Xian 106
II.2. The Testimony of Xuan-Zang 106
III. Asokan Pillars and Bell-Capitals 108
IV. The Pataliputra-Mahasthangarh Alignment and Sikligarh Pillar 116
V. Rummindei, Nigliva and Gotihawa 117
V.1. Rummindei or Lumbini 117
V.2. Nigliva/Nigali Sagar 121
V.3. Gotihawa/Gutiva 122
V.4. Observations on the Archaeological Contexts of Rummindei, Nigliva and Gotihawa 123
VI. The Bell-capital of Bansi and the Pillar of Bhagalpur 126
VII. Ayodhya 127
VIII. Varanasi: Lat Bhairo 128
IX. Sarnath 129
IX.1. A Second Pillar at Sarnath(?) 131
X. Prahladpur 132
XI. Belkhara (Ahraura) 133
XII. Bakraur 134
XIII. Bhuvanesvara: Bhaskaresvara and Ramesvara Temples 135
XIV. Allahabad 135
XIV.1. The Queen's Edict (after Hultzsch 1925, pp. 158-59) 137
XIV.2. The Kausambi Edict (after Hultzsch 1925, pp. 159-160) 138
XV. Kausambi Pillar 138
XVI. Deur Kothar 139
XVII. Sanchi 140
XVIII. Udayagiri (Gwalior Museum) 142
XIX. Bhopal(?) 142
XX. Sodanga (Ujjayini) 142
XXI. Amaravati 143
XXII. Sankisa 144
XXIII. Delhi-Topra and Delhi-Meerat 145
XXIV. Hissar and Fatehabad 146
6. SUMMARY AND DISCUSSION 148
I. Minor Rock Edicts 151
II. Major Rock Edicts and Separate Edicts 155
III. Miscellaneous Edicts from Vidarbha, Bairat, Afghanistan 160 and the Northwest, and the Barabar Hills
IV. Pillar Edicts 162
V. Historical-Geographical World of Mauryan India 165
Bibliography 167
Index 177
Autor
DILIP K. CHAKRABARTI is Emeritus Professor of South Asian Archaeology at Cambridge University and in fact, the first person to hold a personal chair in the field of ancient Indian history and archaeology at this university. He was awarded Hony. D. Litt by the M.J.P. University, Bareilly and S.C. Chakrabarti medal by the Asiatic Society, Kolkata. He received Gurudev Ranade book prize of the Indian Archaeological Society for his book The Oxford Companion to Indian Archaeology. Profile page.
Quellen: Aryan Books International; Eastern Book Corp.; Saujanya Books; Bagchee