Between Fame and Shame
Verfasst von pw am Mo, 03/21/2011 - 22:25.
Brückner, Heidrun [u.a.] [Hrsg.]:
Between Fame and Shame : Performing Women – Women Performers in India / ed. by Heidrun Brückner ; Hanne M. de Bruin ; Heike Moser. - Wiesbaden : Harrassowitz, 2011. - 284 S. - (Drama und Theater in Südasien ; 9)
ISBN 978-3-447-06281-7
EUR 48,00
DDC: 792.0820954
-- Angekündigt für März 2011 --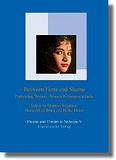 Beschreibung
Between Fame and Shame edited by Heidrun Brückner, Hanne de Bruin, and Heike Moser presents twelve essays dealing with the role of women in various Indian performance traditions and in different social contexts. The volume's contributions are intended to convey a better understanding of the ? often troubled ? relation between women and public performances. The cultural performances studied range from possession performed by women as a religious service to a deity, to on-stage performances by professional actresses representing different performance genres. The regional focus is on South India, especially Kerala and Karnataka.
A special feature of the book is the simultaneous internet publication of the audio, audio-visual, and visual materials referred to in the articles. Some of the audio provide for the first time samples of oral literary genres recorded, in some cases as early as the 1970s. The authors of the essays are anthropologists (Claus, Schömbucher, Guillebaud), folklorists (Rai), Indologists (Brückner, de Bruin, Moser, Johan, Griebl/Sommer) sociologists (Schulze), and theatre scholars (Daugherty, Pitkow) from India, Europe, and the USA. [Verlagsinformation]
Inhalt
Technical notes. 7
Foreword. 9
Hanne M. de Bruin:
Contextualising Women and Performance in India. An Introductory Essay. 11
PART 1: THEORY
Peter J. Claus:
Reflections on Folk Literary Criticism. 39
Elisabeth Schömbucher:
Divine Words, Human Voices: Listening to the Female Voice in Performances of Possession. 67
PART 2: HISTORY AND SOCIAL CONTEXT
Heidrun Brückner:
Folk Culture and Modernity: The Case of Goddess Reṇukā-Ellamma and her Special Devotees. 97
B. A. Viveka Rai:
Gender in Folk Narratives with Special Reference to Tuḷuva-Society, in the West Coast Region of Karnataka, India. 123
Lea Griebl, Sina Sommer:
Siri Revisited: A Female "Mass Possession Cult" without Women Performers? 135
Diane Daugherty:
Subhadra Redux: Reinstating Female Kutiyattam. 153
Heike Moser:
How Kūṭiyāṭṭam Became "kūṭi-āṭṭam", »Acting Together«, or: The Changing Role of Female Performers in the Naṅṅyār-Kuttu-Traditon of Kerala. 169
Christine Guillebaud:
Women's Musical Knowledge and Power, and their Contributions to Nation-Building in Kerala, South India: A Case Study of Kaikkottukali. 189
Brigitte Schulze:
Poetic-Painful Lives of Women-Performers Vis-à-Vis High-Caste Moral Modernity as Remembered by Kamalabai Gokhale, and Retold by Brigitte Schulze. 209
PART 3: INTERPRETATION
Marlene Pitkow:
The Good, The Bad, and The Ugly: Kathakali's Females and the Men who Play them. 223
Virginie Johan:
Actresses on the Temple Stage? The Epic Conception and Performance of Women's Roles in Kūṭiyāṭṭam Rāmāyaṇa Plays. 245
Contributors. 275
Index. 279
Herausgeberin
HEIDRUN BRÜCKNER, Professorin für Indologie, Universität Würzburg. Profilseite.
HEIKE MOSER ist Wissenschaftliche Koordinatorin des Asien-Orient-Instituts und Wissenschaftliche Mitarbeiterin der Abteilung Indologie, Universität Tübingen. Profilseite.
Quellen: Harrassowitz; Deutsche Nationalbibliothek; Buchhandel.de