ABIA
Verfasst von pw am Mo, 01/10/2011 - 20:29.
Pieris, Sita [u.a.] [Hrsg.]:
ABIA : South and Southeast Asian Art and Archaeology Index / ed. by Sita Pieris and Ellen M. Raven. - Vol. 3: South Asia. - Leiden [u.a.] : Brill, 2011. - lxvi, 830 S. - (Handbook of Oriental Studies. Section 2: South Asia ; 23)
ISBN 978-90-04-19148-8
EUR 206,00 / US$ 293,00
DDC: 016.70954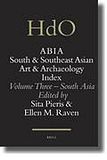 Beschreibung
Volume Three contains 1643 records on South Asia selected from the ABIA South and Southeast Asian Art and Archaeology Index database at www.abia.net. Volume Three has been compiled by specialists of the ABIA Project stationed at Leiden, Colombo, New Delhi, Dhaka, Kathmandu and Peshawar. It features a selection of publications in print published between 2002 and 2007 on prehistory and protohistory, historical archaeology, art history (from ancient to contemporary), material culture, epigraphy and palaeography, numismatics and sigillography.
Covered are South Asia and culturally related regions of Afghanistan, South Uzbekistan, South Tajikistan and Tibet. The bibliographic descriptions (with the original diacritics), controlled keywords and elucidating annotations make this reference work into a reliable guide to recent scholarly work in the fields of the ABIA Index. [Verlagsinformation]
Inhalt
List of Illustrations. ix
List of Tables. xi
Preface. xiii
The ABIA project 2006-2006. xvii
Editorial. xxv
Technical Aspects. xxxvii
The ABIA Index Online Database. xlix
Spelling and Romanization. lvii
Annotators and Editors. lix
Institutes. lxi
Periodicals. lxiii
BIBLIOGRAPHY
1.0 South and Southeast Asia. 1
2.0 South Asia. 17
2.1 Bangladesh. 108
2.2 Bhutan. 134
2.3 India. 138
2.4 Nepal. 444
2.5 Pakistan. 472
2.7 Sri Lanka. 554
2.8 The Maldives. 678
3.0 Southwest Asia - as related to South Asia. 679
4.0 Central Asia - as related to South Asia. 697
5.0 East Asia - as related to South Asia. 711
INDICES
Author Index. 745
Geographic Index. 761
Subject Index. 784
Herausgeberinnen
SITA PIERIS, M.A.(1989), University of Colombo, has been a lecturer in US and Sri Lankan History at tertiary level, co-editor-in-chief of ICOMOS International Scientific Committee volumes, coordinating editor of ICOMOS scientific journals and national volumes. She has been a general editor for Asian publications of the ABIA project (2002-2009).
ELLEN M. RAVEN, Ph.D. (1991), University of Leiden, teaches South Asian arts at the Leiden Institute for Area Studies of the University of Leiden. She is an Indologist who publishes on Indian numismatics. She is also the general editor for western publications of the ABIA Project, stationed in Leiden. Profile page.