Ritualizing the Disposal of the Deceased
Verfasst von pw am So, 11/28/2010 - 18:33.
McCorkle, William W.:
Ritualizing the disposal of the deceased : from corpse to concept / William W. McCorkle, jr. - New York, NY ; Washington, DC ; Baltimore, Md. ; Bern ; Frankfurt, M. ; Berlin ; Brussels ; Vienna ; Oxford : Lang, 2010. - XVI, 182 S. : Ill., graph. Darst. - (Toronto studies in religion ; 30)
Hochschulschrift. Zugl.: Belfast, Univ., Diss., 2007
ISBN 978-1-433-11010-8
EUR 26,90 (Paperback)
ISBN 978-1-433-10792-4
EUR 51,70 (Hardback)
DDC: 393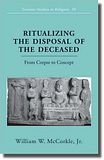 Beschreibung
Ritualizing the Disposal of the Deceased traces mortuary behavior from the early fossil record to modern religious contexts in diverse cultural settings. By using archival and ethnographic evidence from Buddhist traditions, the author highlights the disparity between doctrines that contradict actual practices performed by Buddhists themselves. By appealing to the evolved cognitive architecture of human minds, this book argues that ritualized disposal behavior is the by-product of mental systems designed to handle living people. Due to complex social intelligence, humans are compelled to handle dead people in ritualized behaviors and to represent them in counterintuitive ways. The author also examines the professional religious guilds that have taken advantage of these ritualized compulsions over the last several thousand years, by giving and controlling the meanings behind these actions. Furthermore, experimental evidence is given to support this hypothesis, providing the first mature cognitive and evolutionary theory for mortuary behavior by humans. [Verlagsinformation]
Inhalt
Acknowledgments. ix
Technical Notes. xiii
Illustrations. xv
PART ONE: THE CULTURE OF DEATH
1. Hanging Out with Dead People. 3
- Disposal of Dead Bodies: A Cultural Phenomenon. 4
- Ritualized Disposal of Corpses. 6
- The Religious Context. 11
- Summary. 19
2. Manufacturing Buddhism. 21
- The Generation of a World Religion. 22
- Material Culture and Mistaken Identities. 26
- Are Religious Experts Really That Different from the Laity? 29
- Summary. 31
PART TWO: BUDDHALOGICAL INCORRECTNESS
3. Lies, Damn Lies, and Buddhist Texts. 35
- Bones, Stones, and Schopen's Monks. 36
- The Myth of the Mahāyāna. 38
- Ghosts, Buddhist Gods, and Globalization. 40
- The Histories of Buddhism. 41
- Summary. 42
4. Stupa, Relic, and Hungry Ghosts. 45
- When One Burial Simply Will Not Do. 46
- Selling the Dharma. 52
- Relics Recapitulate Rituals. 53
- Summary. 56
5. The Domestication of Living Buddhist Traditions. 59
- Buddhalogical Incorrectness. 62
- Discussion and Possible Conclusions. 64
PART THREE: MENTAL CULTURE
6. When Meaning Doesn't Matter Anymore. 71
- Symbolic Theories. 74
- Symbolism: When Representations Collide. 80
- Funtional Theories. 82
- Emotional Theories. 83
- The Evolution of the Social Mind. 87
- Practical Theories. 88
- Problems. 89
- Summary. 90
7. Evolutionary Disgust. 93
- Are Dead Bodies Dangerous? 94
- The Smell of Death. 97
- The Biology of Pollution and the Behavior of Disgust. 100
- Summary. 102
PART FOUR: FROM CORPSE TO CONCEPT
8. Corpse, Concept, and Contagion Triggers. 107
- Experiments and Correlations. 109
- Vignette Analysis 1. 112
- Vignette Analysis 2. 115
- Discussion. 118
- Explanations. 127
- Summary. 131
9. Memes, Genes, and Dead Machines. 133
- The Mental Culture of Dead Agents. 134
- A Cognitive Ethnography for Mortuary Behavior. 145
- From Ritualized Compulsions to Ritual Script. 149
- Conclusions. 151
Appendix. 153
Bibliography. 165
Index. 177
Autor
WILLIAM W. MCCORKLE, Jr. is an evolutionary and cognitive anthropologist interested in ritual, language, and communication. He earned his Ph.D. from the Institute of Cognition and Culture at Queen's University in Belfast, one of the world's premiere centers for research on cognition, culture, and religion. He has conducted fieldwork in India and Japan and devised original experiments to test his theory on the ritualized burial of dead bodies by humans. He regularly gives papers and presentations internationally on ritual and human behavior. Most recently, he has served as Visiting Assistant Professor in the Department of Religious Studies at Webster University in St. Louis, Missouri.
Quellen: Peter Lang Verlag; Deutsche Nationalbibliothek; WorldCat; Amazon; Library of Congress