The bejewelled Buddha
Verfasst von pw am Fr, 11/19/2010 - 21:10.
Bautze-Picron, Claudine:
The bejewelled Buddha from India to Burma : new considerations / Claudine Bautze-Picron. - New Delhi : Sanctum Books, 2010. - xx, 186 S. : Ill. - (Sixth Kumar Sarat Kumar Roy Memorial Lecture)
ISBN 978-81-9099-500-9
US$ 38,95 (Munshiram Manoharlal)
US$ 62,50 (Biblia Impex)
US$ 75,00 (Vedams Books)
US$ 79,90 (D.K. Agencies)
DDC: 704.94894363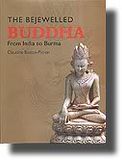 Beschreibung
This book represents a comprehensive study of 'The Bejewelled Buddha' considering stylistic as well as iconographic issues. A crucial moment in the Buddha's life seems to have been referred to through this image, namely, the sojourn on Mount Meru, where the Buddha sat on Indra's seat and taught all the gods. By occupying the seat of the king of the gods he was able to endorse the royal function of this deity; this becomes particularly evident in the late fifth century and probably reflects the dramatic situation that the Buddhist community was confronted with, i.e. the political power essentially fostering the Hindu religion and social structure. Hence, the Buddha is depicted as a perfect and powerful ruler sitting at the top of the universe and showing himself adorned as a king; more than any human ruler, the Buddha rules over the universe. There is also another dimension that should never be neglected as in any other Indian cult, worship of his image entailed offerings of various kinds, such as flower garlands or jewels, being made to the Buddha. The image of the Bejewelled Buddha thus included various constituents while at the same time it was used as the locus where different religious or political concepts found a way of expression. The result was the creation of an image of multi-layered significance which found its way into all Asian cultures.
Inhalt
Foreword
Preface
Introduction
1. The early period, from the first century BC till the fourth century AD
2. The Northwest and Maharashtra, from the fourth to the sixth century
3. The Northwest and Kashmir, from the sixth to the eighth century
4. Bihar and Bengal and beyond form the ninth to the twelfth century
5. Pagan and beyond, from the eleventh century and onwards
Appendix
Bibliography
Index.
Autorin
CLAUDINE BAUTZE-PICRON is an Indian art historian. Her research mainly concerns the art of Eastern India (Indian States of Bihar and West Bengal, Bangladesh), issues related to Buddhist iconography in the Subcontinent, and the murals of Pagan (Burma). She is affiliated to the Centre National de la Recherche Scientifique (CNRS), Paris where she belongs to the team of research 'Mondes Iranien et Indien, UMR 7528' (CNRS, INALCO, EPHE & Sorbonne Nouvelle) which is based in Paris. Further, she teaches Indian Art History in the Department of Art History and Archaeology, Faculty of Philosophy and Letters, Free University of Brussels. Homepage.
Quellen: Sanctum Books (via Alibris); Vedams Books; Biblia Impex; Munshiram Manoharlal; D.K. Agencies